*Disclaimer
: My translations are not perfect (in fact they are pretty far from perfect), but please do credit if you repost/take bits of my translations for your own use. Translating is not easy so I would appreciate it if you could respect me and my work. Thanks! ^___^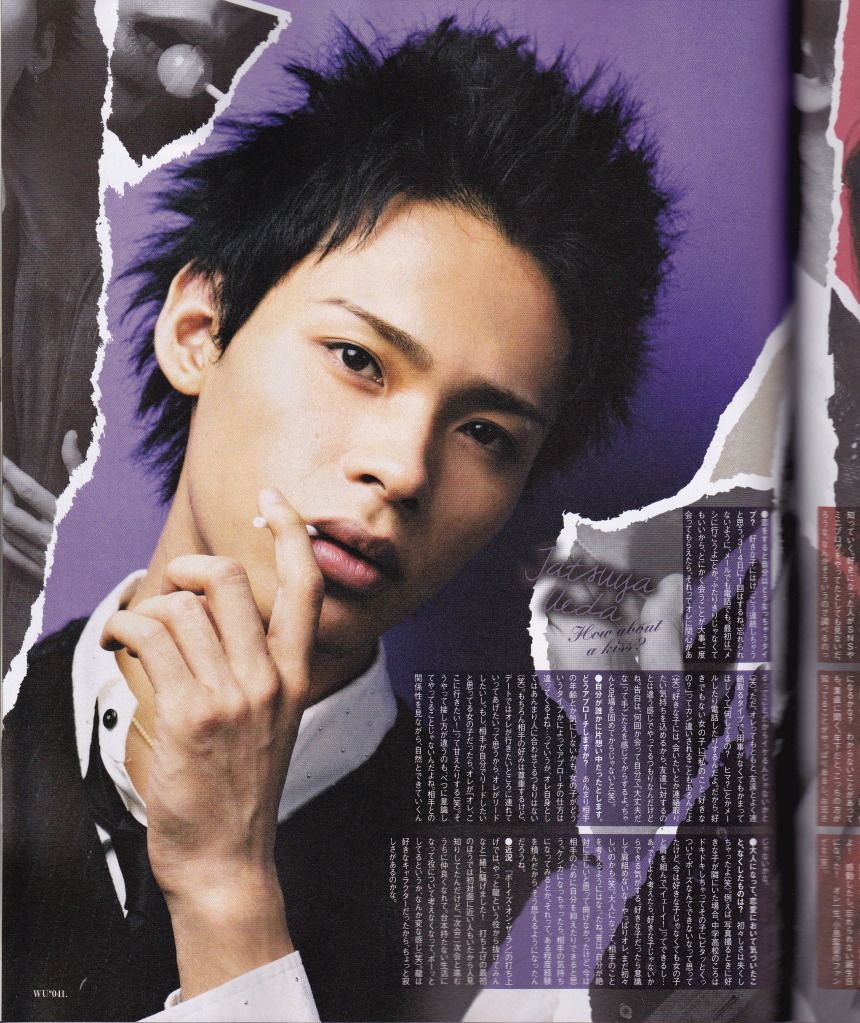 Picture Credit: ahlan@weibo, shared by
kissmegreen
. (click to enlarge) Translated by
mixedstrategy
Ueda Tatsuya
How would you change when you are in love?
I think I will end up contacting the girl I like quite a lot. About once in 3-4 days. In order not to forget, through both mail and phone. At first it will be 'Let's go out for a meal' or something. It's fine even if it's not just the two of us, for now it is more important to actually meet each other. Once we have met she will start to have interest in me and I would think 'It might work right?' (laugh). But, to begin with I'm the type that likes to contact their friends a lot, so even when we don't have anything on I'll send a mail like 'What are you doing now? Are you free?', or call them up. Hence there have been times where a girl I'm not interested in gets the wrong idea about it (laugh). When I'm contacting a girl I like I'd do it with the feeling that I want to meet her, so I intended it to be different from that of a friend, but… As for the confession I'll only do it when we've meet a couple of times and I feel that 'It'll be alright'. I'll have to find my footing first (laugh).
Let's say you have a one sided crush on someone. How will you approach her?
I might not really care about her age and stuff. Depending on what type of girl she is, I will change my approach… even though I say that I don't have the intention to change myself to suit others (laugh). Of course I'll respect her tastes, but since I think that I'd like to bring her to places that I want to go for a date, I want to take the lead. If she's the type who wants to take the lead, I'll act like a spoiled child and say 'I want to go to this place!' (laugh). This difference in approach isn't really something I do consciously. It could be something that comes out instinctively while looking at our relationship.
When you became an adult, what did you realize, and what did you lose, regarding love?
I've lost the innocence (laugh) For example, when taking a photo with a girl I like, when I was in junior/high school; I think I wouldn't be able to stand really close to her, now even when I'm with girls I'm not in love with we can link shoulders and say 'yay~'… But when I think about it, it's probably because it is not a girl I like that I am able to do it. If it's a girl I like I will be conscious and unable to link shoulders… So actually I might still have that innocence after all (laugh). When I became an adult I became able to think about the feelings of the other party. In the past I always thought I was right and would never give in, but now I think can compromise for the other party. Like if we fight I can try to think in her shoes. I suppose that is, in some sense, something that becomes possible due to the accumulation of experience.
Recent happenings.
Since I've finished filming 'Boys on the Run', I am finally able to withdraw from the character of Ryuu and have fun with everyone! At first there were people whom I've practically never met before so I was shy, but after meeting them a few more times we became friends. To live without carrying a script and thinking about the character, rather than saying I'm doing nothing, it just seems kind of weird (laugh). Ryuu is a character I liked so I feel a little lonely.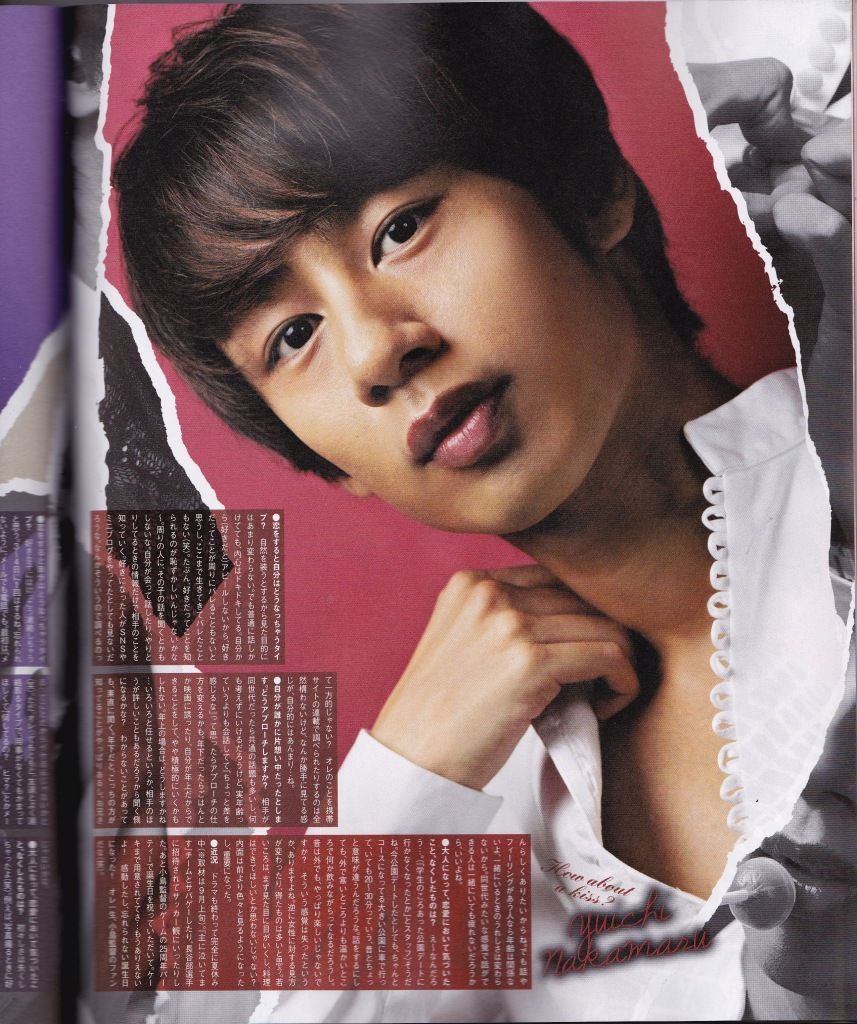 Picture Credit: ahlan@weibo, shared by
kissmegreen
. (click to enlarge) Translated by
mixedstrategy
Nakamaru Yuichi
How would you change when you are in love?
I'll put up a false front naturally so outwardly I wouldn't really look different. But even when I'm just talking to her normally my heart will be beating really fast. Because I don't try to appeal myself to her, I don't think people around will know that I like her, it has never happened in my entire life (laugh). Perhaps I think that it is embarrassing for her to know that I like her~ I wouldn't ask about her from people around. I'll find out about her from the information I get talking to her myself. I wouldn't look at the SNS (social networking sites) or microblogs (eg twitter) of the girl I like. Doesn't researching like this seem kind of one way? Although I'm totally fine with her researching about me through my j-web entries, but I kind of find it to be just doing it as one likes, so I wouldn't really do that…
Let's say you have a one sided crush on someone. How will you approach her?
If we're from the same generation it is likely that we'll have a lot of common topics and we'll be able to talk without thinking much. But rather than just thinking about age, in the midst of conversation if I feel that 'there seems to be some difference', I might be able to change the approach. If she's younger I'll ask her out for a meal or a movie, to do things that we're able to do because I'm older, and take a proactive approach. If she's older, what shall I do…? Rather than leaving everything to her, I might take the role of the follower as she'll have detailed plans too, maybe? If there's something I don't know I'll ask straightforwardly. If she's younger, there'll be things that I would know so I want to appear like an elder brother. But for people whose feelings and thoughts can match, age does not matter. The happiness of being together will not change. It's good to be with someone that feels like they are from the same generation talk you can talk to, as you'll not feel tired with them.
When you became an adult, what did you realize, and what did you lose, regarding love?
Eh~ What is it…? (Staff: How about things like dates in the park back when you were a student?) That's true. Now even if I have a date in the park, I'll go to a big park that can be driven through, and even then it only takes 20-30minutes, it's kind of different from the past. Even if we are talking we'll choose somewhere warm and talk while having a drink, rather than talking outside where it's cold. In the past even though it was cold it was fun right? It seems like such a feeling could have been lost. On the other hand about my view of women, I think it has changed and I've gained many things. When I was young I would look at the appearance first and I wanted someone that can like cook, etc. I am now able to see various things beneath the surface, and I care more about that now.
Recent happenings.
I've finish filming the drama so it's totally the summer holidays (interview was done in early September). I played survival game with the 'Omoni Naitemasu' team and was invited to watch a soccer game by Hasebe-san (Captain of the Japan national team). Also I celebrated my birthday at the 25th year anniversary of Producer Kojima's game
(T/N: He's talking about Metal Gear Solid but I guess he can't say the name outright)
. To go to the extent of preparing a cake… it was unbelievable! I was really touched and it became a birthday I'll never forget! I'm a fan of Producer Kojima for life (laugh).
Sorry that this pair took so long, I was really busy with school these few weeks >__< (How did I actually take a whole month for this, the December issue is already out ;___;) Anyway I'll be having exams at the end of the month so I will take a little break from translating. Be back in December!~~~